Visit Cloud Nine Cafe-Bar at The O2, run by Signal Brewery
Signal Brewery's bar, Cloud Nine, at The O2.
A friendly bar if shopping at Icon Outlet or pre-gig at The O2.
Proudly serves Signal Brewery craft beers.
Read on to find out more about Cloud Nine at The O2.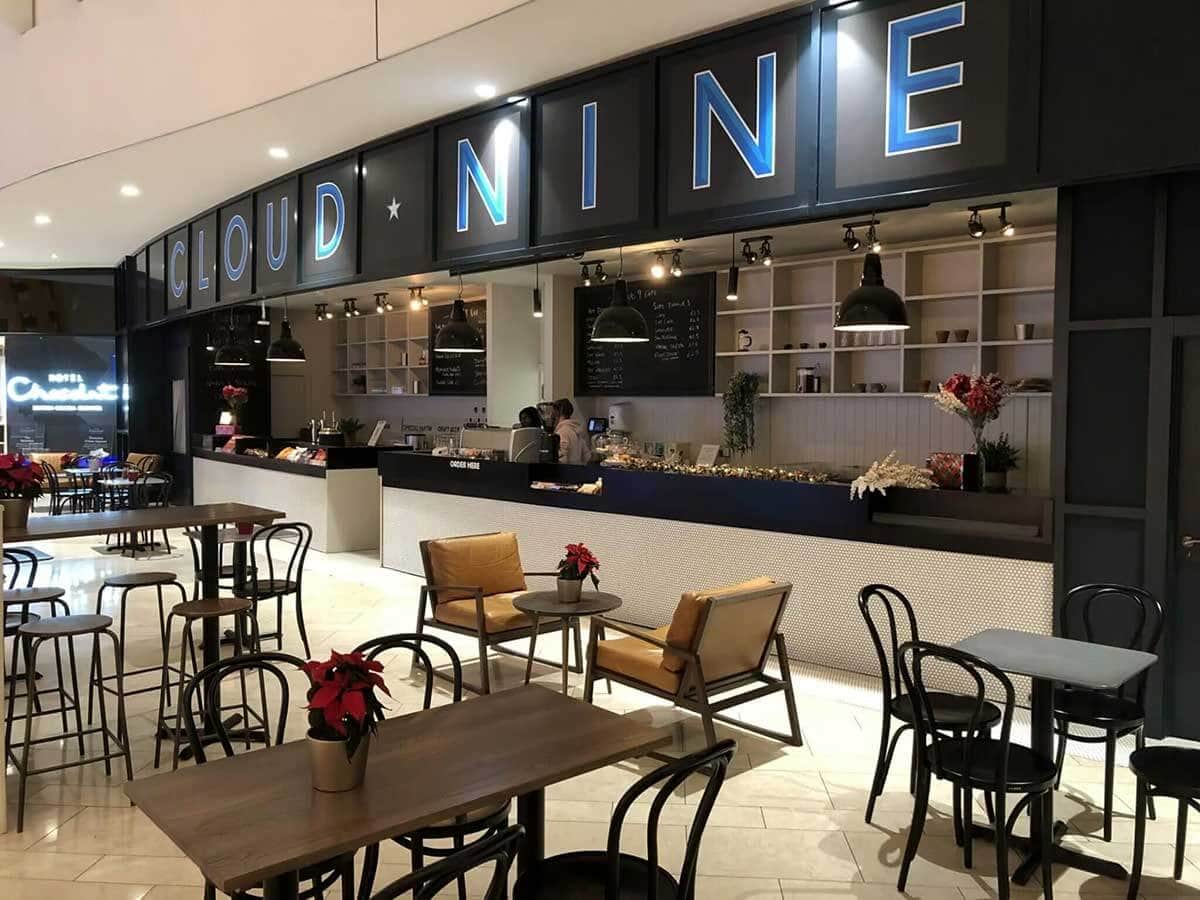 Cloud Nine, the only independently run cafe-bar at London's O2, has reopened after an extensive refit.
Run by the Signal Brewery team, Cloud Nine is the ideal place for a well-deserved break whilst shopping at Icon Outlet at the O2. Cloud Nine is also the perfect venue for a pre-show drink and bite to eat, located less than a minute from The O2 Arena.
Most importantly, Cloud Nine goes out of its way to serve the best of South London's beer and coffee!
Our coffee beans come from 80 Stone Coffee Roasters, coffee specialists based in Croydon. 80 Stone are owned by friends Roberto and Simone who have coffee running through their veins. They supply Cloud Nine with wonderful beans from which we make lattes, cappuccinos and all the coffees you would expect.
As well as serving locally sourced coffee, Cloud Nine serves our top-class refreshing lagers (Signal Lager and Kranok) and delightful craft beers (Turbo Joost and Signal Pale Ale) all served fresh from the tap.
If you fancy something other than beer we have cider, wine, Tappd cocktails (who doesn't love an Espresso Martini), fizz and soft drinks. And we are particularly chuffed to serve our own Studio Gin, Studio-V Vodka and The Yard Spiced Rum, which we make with our friends at Bare Distillery in East Sussex.
When you need something to eat, Cloud Nine offers a daily-changing selection of hand-made sandwiches with plenty of choice for those wanting vegan and vegetarian options as well as snack bars, fruit and milkshakes. In short, Cloud Nine offers great food and fabulous drinks!
Cloud Nine is an ideal place to grab a pre-gig drink and snack away from the hustle and bustle of the Lower Level at the O2.
Being an independent café-bar, we can make sure we offer a really friendly welcome with a mix of drinks and snacks that are just that bit better than you get from a typical chain. It's a proper hidden gem of a place.
Cloud Nine is based on the Upper Level of the Icon Outlet, right next door to Hotel Chocolat and Sunglass Hut and opposite Ted Baker. Located just 60 seconds from the escalators to the Upper Level, Cloud Nine is open the same hours as Icon Outlet – from 10am until 8pm Mondays to Saturdays and 10am to 7pm on Sundays.