Welcome to Signal Brewery & Taproom
Signal Brewery was established in Croydon, South London in 2016.
We produce a range of Pure and Fresh craft beers in keg, cask and can. We love natural brewing and staunchly avoid short-cuts, preservatives or additives.
We also produce a delectable and award-winning craft gin with our partner, Bare Distillery in East Sussex.
All our craft beers and spirits can be found in our online STORE, in pubs, bars and restaurants across London or via a no-nonsense SUBSCRIPTION
They are also available at our TAPROOM. Check opening times and book a table here.
Signal Taproom
Our Taproom is the perfect all year-round drinking spot – with both a large open courtyard and indoor bar area.
Alongside our (fresh from the tap!) beers, we serve up a range of other drinks including, wine, spirits and cocktails.
We have plenty more to keep you entertained including darts, table tennis and regular sports screenings, DJs and live music.
The Taproom can also be hired for private events.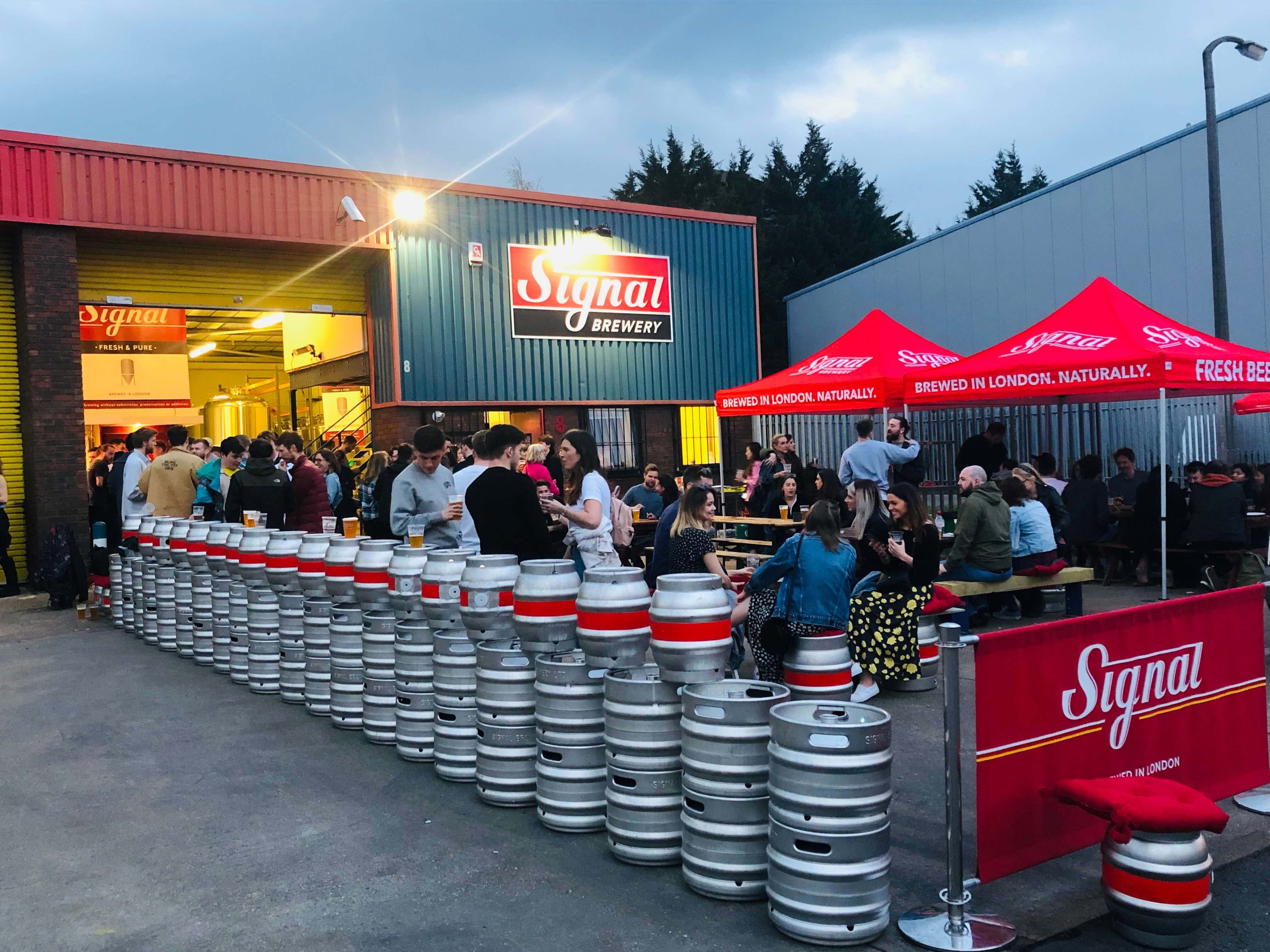 Oktoberfest at Signal Brewery & Taproom, 30 September 2023
Enjoy special beers and a sausage BBQ at Oktoberfest, held at the Signal Brewery Tap Room on Saturday 30 September 2023; part of the legendary Signal Brewery Pay Day Parties season.
For over 200 years Oktoberfest has been a wonderful celebration of beer and friendship. You can't have missed this year's Oktoberfest, it's all over TikTok, and this has put us all in the mood for a knees up. So, whilst Oktoberfest's historical home might be in Munich, we're joining in the party and bringing Oktoberfest to Croydon.
At both the OG Oktoberfest and at many other Oktoberfest celebrations around the world, local brewers take the opportunity to craft unique beers especially for the event. And who are we to buck this trend?
With not one but three Oktoberfest-inspired beers, Croydon's Signal Brewery holds our own Oktoberfest at the Tap Room on Saturday 30 September 2023 from 1pm to 9pm.